Many of us believe that everything costs less in Malaysia – be it cafe food, groceries or makeup. We brave the crowds and cross the causeway on weekends, looking to get a cheap back-to-school blowout or just to satisfy our tummies.

But what if I told you that to get gorgeous nails, you don't have to go through this: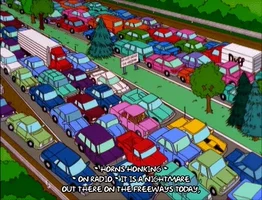 There are many nail salons in Singapore that are just as affordable (if not more) than those in JB or KL!

L'amour Cottage (@lamourcottage on Vanitee)
Located in a small corner of Seletar is L'amour Cottage, a home-based salon run by Wendy. She believes that pretty nails do not have to break the bank, and all her services have wallet-friendly prices.
Done By: @lamourcottage on Vanitee
Wendy's services are highly raved by her customers – just check out her reviews!
For a limited time only, you are entitled to book an Express Gel Manicure at $10 nett at L'amour! The service entitles you to two colours of gel polish (excluding glitter/cat eye/shell) and must be booked and completed by 30th June.

Joleen (@dnailscafe on Vanitee)
A classic gel pedicure here will only set you back $34 (U.P $68) when you purchase this offer on Vanitee! In line with the Great Singapore Sale, Joleen has decided to hold a promotion for you ladies out there.
Done by: @dnailscafe on Vanitee
Her Bukit Panjang salon is right opposite the LRT station, so you won't have to worry about searching high and low for it.
If you're curious about what other customers have been saying, you can take a look at some of the reviews below:
The service entitles you to two colours of gel polish, scrubbing and under feet treatment as well as a return soak off. Do note that it has to be booked and completed by 31st July 2017!

Jiahui (@deliciousnails on Vanitee)
Always envied the long slender nails of those around you? Want to do pretty nail art but feel that your nails are too small?
Jia Hui is having a $78 deal for her Hard Gel Nail Extensions! It might sound like a little on the steep side, but it is a classic service – yes, classic + gel nail extensions + a glitter tip! I couldn't believe my eyes when I saw this service on Vanitee, but it is definitely for real.
Done by: @deliciousnails on Vanitee
She has received glowing reviews from her customers, as seen here:
Extensions come in handy when you're in the habit of nail-biting, so don't let your habit prevent you from getting gorgeous nails! (Of course, it would be a good idea to stop biting your nails too)

Elaine (@inailsspa on Vanitee)
Our routine trips to the manicurists tend to leave our nails soft and brittle, because the chemicals in the polish are not great for our nails. Furthermore, the coat of polish prevents our nails from transferring oxygen, which is crucial to their health. (Just imagine being suffocated!)

However, Elaine has a nail care treatment for dry, brittle or stressed nails (which belong to all those of us who do gel manicures back to back) going for only $20! For less than the price of a gel pedicure, you can get your nails repaired and restored back to their original state. She uses LCN Nail Care products from Germany which are highly popular among those in the manicurist circle.

She also does the usual manicure/pedicure combination, as seen below:
Done by: @inailsspa on Vanitee

With this list of nail artists, there's no reason for you to head into Malaysia for your manicure fix again!
---
Comments