'Time is of essence' they say. The struggle to complete our work has always been a serious one, and when it comes to the pursuit of beauty, our struggle gets even more real.  I mean honestly, who has time for that right?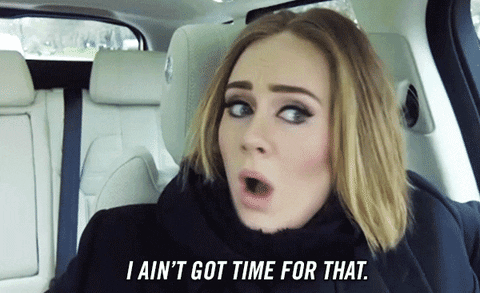 And that's why we have nailed down a list of beauticians/parlors  specially for all you busy bees to pop by and get a quickie done during lunch time or perhaps in between meetings!
Fancy Nails Paradise
1 Park Road, – #03-02, People's Park Complex
Chinatown, 059108, Singapore
Tucked in a salon's cosy corner at Chinatown, Fancy Nails Paradise offers a wide range of nail services. You can grab an Express Manicure for just 30 minutes at $10 and an Express Pedicure at $15!
Express Manicure – $10, 30 mins
Express Pedicure – $10, 30 mins
Emerald Allure
50 East Coast Road #02-87 ROXY SQUARE II
Singapore
If you are looking to give your tired feet a squeaky clean scrub and nourishment, head down to Emerald Allure (Vanitee Awards 2016 Winner)  for a 20 minutes Feet Scrub & Mask treatment just for $15. And if you have an extra 30 minutes to spare, indulge yourself in an Express Gel Mani at $20! Cheap and good – we likey.
Express Gel Manicure – $20, 20 mins
Feet Scrub & Mask – $15, 20 mins
FLASHY FACIALS
 Skin Inc
#B3-43 ION Orchard, 2 Orchard Turn, Singapore 238801
Lo and behold, our home grown customized skincare brand –  Skin Inc, provides Facial In a Flash Treatments catered specially for ladies on the go. At  $45, you'll be able to enjoy an instant beauty booster for only 20 minutes which  consist of Skin Inc's signature customized 3-step program with it's Optimizer Voyage Tri-Light treatment to lift, firm and increase the absorption of skin care products that are applied within a quicker time.
If 20 minutes seems too short, perhaps you could go for the 30 minutes hyper changed facial for $65. Similar to it's Facial in a Flash Treatment, this will include the customized 3-step program using Pure Serum Mist Onsen water and Optimser Voyage Tri-Light treatment. Plus there's even a shoulder massage at then end too!
Photo Credit: Her World Plus
Photo credit: Clozette
Facial in a Flash Treatment –  $45, 20 mins
Facial in a Flash Treatment + Massage – $65, 30 mins
 .
HAIRY ISSUES
1 Raffles Place – #05-19A, One Raffles Place
 Singapore 048616,
Located right in the CBD area at Raffles Place, is where you can find Amberbeila with a full suite of services which includes their E-Frost Light treatment to tackle unwanted  hair!
While it's aesthetically pleasing to remove those fuzzy wuzzy hair, it also aids in increasing our metabolism
rate, improving blood circulation and the speed up the renewal of skin cells . Best part? It doesn't even take long for each treatment – for underarm hair removal ($68), you'd only require 15 minutes! While for the Half Leg Hair Removal ($158), that will take you about 30 minutes!
E Frost Light Underarm hair removal – $68, 15 mins
E Frost Light Half Leg Hair Removal- $158, 30 mins
Wax Diva
Far East Plaza, 14 Scotts Road, #04-137A Singapore 228213
Right within Far East Plaza shopping mall hides this precious little Gem. It's one of my personal favorite as the beauty therapist – Margaret is really friendly and believe it or not, she has almost 20 years of experience under her belt and that alone, give clients a peace of mind to know that they are in safe hands.
Armed with her Depileve professional pearl waxes which are gentle on the skin, Margaret provides speedy (15 minutes only!)  Brow wax services at $18, while her Lip/Chin wax comes at $10 taking around 10 minutes. If you are looking at getting all 3 areas waxed, there's a deal for you at $33 and that wouldn't take more than 30 minutes! Rumour has it that her Brazillian Waxing is as fast as 20 minutes too.
Brow Waxing – $18, 15 mins
Lip/Chin Waxing – $10, 10 mins
Brow, Lip & Chin Waxing – $33, 30 mins
View more services provided by @waxdiva and book your appointment now at: https://waxdiva.vanitee.com/ 
MARVELOUS MASSAGE
Pinky Senses
462 Crawford Lane, #02-29 
Singapore 190462
Working in the office for long hours could probably make your body feel stiff,  so why not pop by Pinky Senses to chill out your tensed shoulders and neck with their therapy at $60 each for a 30 minutes treatment? Each session includes a consultation to assess your pain points before proceeding with the treatment to loosen up those achy achy!
Neck Therapy – $60, 30 mins
Shoulder Therapy – $60, 30 mins
Specially for Vanitee users, use code 8FORYOU to get $8 off your services!
---
Comments