Let's be real for a moment. There's nothing better than looking and feeling good. Ladies splurge on manicures and spas to pamper themselves ALL THE TIME. But, what about the men?
Think about it. When is the last time you recall one of your guy friends talking about treating themselves to a pampering manicure? Or maybe a much-needed eyebrow threading session? Close to none, are we right?
We all want to look and feel our best everyday, so to all our guy friends out there – we present to you our ultimate guide to men's beauty. (P.S. Word is on the street that the ladies sure enjoy waking up next to a well-groomed man!)
A flawless complexion – that's the epitome of real beauty, whether you're a guy or girl. Real men repair things, so why not their skin? Our skin deserves nothing but the best, and we want to give our skin the BEST treatment that is truly tailored to our skin type and lifestyle. For a start, let's identify our skin type!
Too much information to digest? Rest assured, because even if you are totally clueless about your skin type, our beauty service providers are here for you. They will analyze your face thoroughly and employ a wide range of facial and skin care treatments that will help you achieve that young, healthy and flawless skin. Some treatments may be slightly pricey, but here at Vanitee, we believe that flawless skin is an investment that is always worth the price.
Here is a handy list of beauty service providers that you can trust to take care of your skin needs:
Sen'se by De Belle
Located at Far East Plaza, Sen'se by De Belle is the perfect haven to achieve aesthetic results while easing your body and soul. Their obsession with perfection and customers' well-being motivates them to constantly upgrade their skills and equipment to provide you nothing but the best.
We recommend you guys to try:
Signature Anti Acne Facial,which caters to folks suffering from acne and problematic skin. This facial helps to regulate sebum production and promotes skin clarity.
Tripollar treatment, which is kind of like a refreshing drink for your skin. Expect to see a reduction in your fine lines and wrinkles in just 30 minutes. Results are also immediate, it's just like magic!
Skinz Heritage
Experience the peaceful harmony of East and West at Skinz Heritage. The friendly folks at Skinz Heritage are committed to provide extraordinary service to their clients using the latest technology and traditional Chinese medicine (TCM) methods.
To provide customised beauty solutions, Skinz Heritage takes great care to go through a 3-step approach with their clients. We heard that their Skinz Heritage Galvanic Treatment is highly raved about! This treatment uses mild electric currents to achieve a facelift and prevent sagging and loose skin.
Maybe our dear bulldog friend needs some skin-loving too
OPPA! Saranghaeyo! Ever wondered why the ladies are ALWAYS swooning over KPOP stars? Well…maybe it's their HAIR?
It's no doubt that a good hairstyle can significantly boost one's physical appearance, and that's why it's ever so important to take care of your mane – no matter your gender.
Asian men are known for their ability to rock close to any kind of hairstyle, whether it's an undercut, knot, side sweep, or an angular fringe. Here are some fresh hairstyles you can consider for your next trip to the salon!
Yes, we heard you! And we totally understand your fear about getting a dreadful haircut. But fret not – here is a curated list of salons as recommended by our editors. Say no more, and consider it done buddy!
123 Hair Art offers a vast array of professional hair services. Harnessing the most advanced technology, achieving that fashionable look you have always dreamt of is as simple as 1, 2, 3.
The secret to rocking grey hair without looking old? Psst… It's 123 Hair Art's high- fashion colouring techniques!
Trust – that's the biggest selling point of 2NE Studio SG. Gene and Andy, the duo who helms the widely-raved about salon, is known for their professionalism and detail-orientedness, so you can be rest assured that your hair will be in good hands.
Apart from their outstanding skills, their sincerity also makes your nerves and fears instantly vanish the moment you step into their salon. Of course, your trip will not be complete if you leave without trying out their hair treatments that will make your hair feel so fluffy soft and silky!
How important are your eyebrows, exactly? Just look at this picture of suave Hong Kong actor Nicholas Tse and there's your answer.
Need we say more?
Yet, men often neglect their eyebrows until they grow an eyebrow forest. Yikes. Brows are the first thing people notice about you and whether we want to admit it or not, they speak volumes about our self-confidence. How else can we do the Cadbury eyebrow dance without our brows?
TADA! Your eyebrows are not only for aesthetic reasons but they are also highly functional. Still not convinced ? Check out this after and before!
So, when is it time to groom those brows? An easy rule of thumb is that if you have hairs extending beyond your brow line or if your brows are starting to come together to form an unsightly unibrow, it's time to head over to a professional.
Now here comes the second question – to pluck, to trim, to embroider, to wax or to thread? With so many options, which one should you choose?
#1 Plucking – Plucking just means taking a pair of tweezers and plucking out any hair that does not follow the "rules". The best advantage is definitely the simplicity, though it might be a bit painful or time-consuming if you're doing more than a light maintenance. Well, but as the saying goes, no pain no gain!
#2 Trimming – Trimming kits usually consist of a short, comb-like tool to brush the hair straight and a cutter that runs along the comb to trim everything down to the same length. This is great for controlling the length, even though more work needs to be done to shape your eyebrows.
#3 Waxing – This is a great option for men who needs to clear a lot of hair, either at the center of their brow or at the edges. Unlike plucking, it all happens at once and probably will end before you realise it. The results of waxing is also much longer, lasting about a couple weeks to months, depending on your skin type and hair growth.
#4 Threading – Threading has been that "holy grail" method for removing hairs for many years. It relies on a small, twisted thread that catches and pulls hairs out in a straight, smooth line. It allows for smaller, more precise shaping and is definitely a perfect alternative for men who still find the idea of waxing their brows daunting.
#5 Embroidery – Embroidery, or also known in the West as microblading, is a form of tattooing by using a blading tool to create hair-like strokes that mimic the natural hair in your brows. Embroidery usually lasts for about 3 – 5 years and allows you to enjoy fuss-free thicker and fuller eyebrows.
If the eyes are the windows to your soul, then you definitely cannot forget the curtains. Here are a few salons we recommend you to check out the next time you want to tame those unruly hairs:
With six years of experience in eyebrow embroidery, you can trust Tiffany from The Brow Lab to understand your unique needs and help you design brows that will meet, and even exceed your expectations.
Introducing her signature Feather-stroke brow embroidery, feather-like strokes are drawn over sparse areas of clients' brows to do away with the dreaded patchy brows. It highlights the natural fullness of your eyebrows, givinmg the a natural-looking shape that complements your natural brows.
We highly recommend the 6D eyebrow embroidery at Sparkle Gaze to those who want to achieve full, envy-worthy brows while avoiding the much-dreaded "caterpillar brows".
OK, now. Do real men get manicures and pedicures? The question is, why not? The idea of getting your nails done still sounds pretty feminine to most guys. But so did the colour pink, slim-cut pants….you catch my drift.
Traditionally, men use their hands more often than their female counterparts to do more manual-oriented things, and as a result, stuff often gets stuck under their nails. And let's face it, nobody enjoys getting a cuticle infection. So, how do you maintain your nails so that they complement your good looks?
A professional manicurist can take care of that. Head down to one of Vanitee's beauty service providers and pamper yourself and your nails with some TLC.
To take it up a notch, you can even get a glossy top-coat as icing on the cake.
Manicure? We say Manly-cure.
Many of us avoid waxing because of how scary it looks and how much we imagine it will hurt! But trust us, it does not hurt half as much as you think! What is a little bit of pain compared to weeks of having hairless smooth skin?
One of the many benefits of waxing is that hair that regrows will turn out much softer and less coarse after waxing. If this is your first time trying to wax, here are some useful tips for you:
Do not moisturise the area you are planning to wax 24 hours before your session
Make sure that hair is long enough before attempting to wax
Once done, remember to use hydrating products to soothe the skin and to prevent any painful ingrown hairs
Of course, waxing your own hair can be a daunting process. That's why women often pay visits to waxing salons!
At Vanitee, we have a plethora of beauty service providers who are experienced in hair removal. They will know exactly how to achieve MORE (results) with LESS (pain).
NEWU Aesthetics SG
Conveniently located in the heart of our business district, NEWU Aesthetics provides a premium range of personalised solutions for hair removal, skin care and slimming.
You definitely have to try the Boyzilian Waxing, one of the most popular grooming services for men at their salon. At NEWU Aesthetics, be transformed into a completely new you!
Be it to look better, to pamper yourself, or to attract a potential S/O, there's always a reason to take care of yourself. Vanitee is hosting a contest on Facebook to pick two lucky winners to enjoy complimentary beauty services kindly sponsored by Sen'se by De Belle, The Brow Lab and NEWU Aesthetics SG. Head over to our Facebook page to find out more.
And as Queer Eye's Jonathan would say: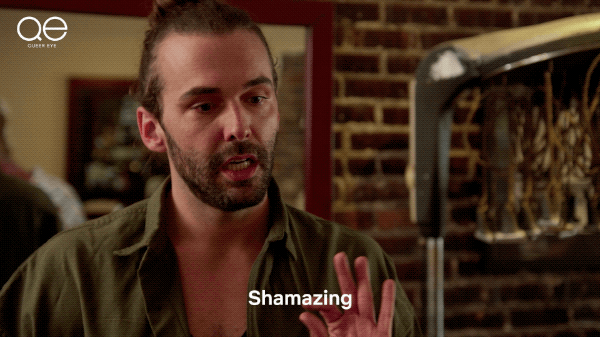 Credits:
https://www.menshealth.com/health/g19545768/benefits-of-massage-therapy/?slide=4
https://www.menshairstylestoday.com/hairstyles-for-asian-men/
http://www.hisstylediary.com/the-manly-cure-to-the-manicure/
https://www.realmenrealstyle.com/5-tips-eyebrow-grooming/
https://www.menshealth.com/style/a19540079/manscaping-your-eyebrows/
https://kknews.cc/zh-my/entertainment/gzl4vy9.html
https://www.buzzfeed.com/beckycatherineharris/the-power-of-eyebrows?utm_term=.rcLe2b3O1#.ol171KZqn
https://www.thebestsingapore.com/beauty/the-5-best-mens-grooming-shops-in-singapore/
https://www.wellwellwell.com/men-grooming-services/
https://www.eucerin.sg/about-skin/basic-skin-knowledge/skin-types
http://ent.pengpeng.com/201503/42263.html
https://www.browstudio.expert/single-post/2016/05/10/The-Difference-between-3D-and-6D-eyebrow-embroidery
https://sg.theasianparent.com/all-you-need-to-know-about-eyebrow-embroidery/
https://www.thebeautyinsiders.com/microfeathering-vs-microblading.html
---
Comments